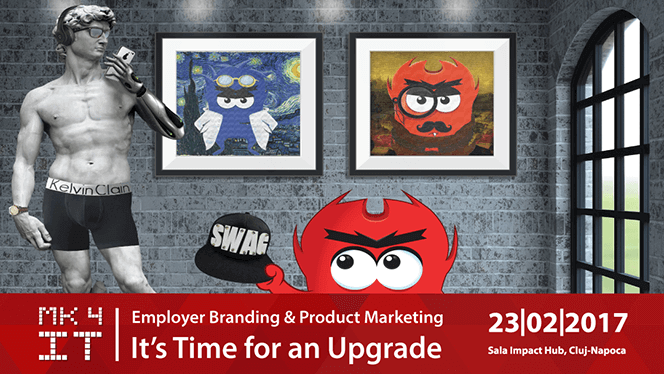 Dacă la prima ediție s-au dezbătut teme precum storytelling, agile marketing sau imbound marketing, anul acesta, tot pentru marketerii din zona de IT, tema dezbătută va fi "Employer Branding și Product Marketing: Arts You Can Master".
Tema este una ambițioasă și cu potențial mare, însă pentru asta este nevoie ca și voi, cei care veți participa, să le puneți întrebări pe subiect speakerilor! De asemena, evenimentul va avea și câteva momente interesante (nu pot să dau mai mult din casă).
Și nu vă spun asta din papucii omului din interior – deși numai o persoană din interior ar putea ști prin câtă tatonare au trecut toate aspectele evenimentului până s-a ajuns la forma de față și câtă muncă creativă au depus colegii pentru key visual-ul câștigător – ci o fac din papucii de blogger partener al evenimentului.
Ce se va discuta
Participanții vor afla direct de la liderii din marketingul și HR-ul românesc și internațional care sunt trendurile, tehnicile și instrumentele de marketing și HR care pot fi folosite pentru promovarea brandurilor de companie și a produselor IT.
Conferința va cuprinde două paneluri, unul axat pe provocările și oportunitățile oferite de employer branding, iar celălalt pe cele mai bune strategii de product marketing. De asemenea, va exista un discurs în care vor fi dezbătute care sunt modalitățile prin care se pot atrage și reține angajații performanți.
Cea de-a doua ediție aduce și o secțiune nouă, de workshopuri, în cadrul cărora participanții vor putea pune în practică, sub supervizarea speakerilor invitați, informațiile proaspăt culese.
Speakeri
Laura Gregg, Media Solutions Consultant @ Linkedin
Anca Bundaru, Senior Product Marketing Manager Bitdefender
Dan Ionuț Tănăsescu, Digital Marketing Manager – East Europe, Russia & CIS Ubisoft
Marius Pop, Marketing & Product Manager Talent Bestjobs
Laura Chiculiță, Chief Marketing Officer eJobs România
Dragoș Gheban, Managing Partner @ Catalyst Solutions
Laura Birhala, N/A @ Thinslices
Gabriel Dombri, CEO @ Tapptitude
Mircea Vadan, tartups Program Manager @ MVP Academy
Andreea Nicolescu, Senior Communication Advisor @ Temenos
Alexandru Roja, Executive Director at Startup Transylvania Entrepreneurship and Innovation Center
Antonia Onaca, fondatoarea platformei Engager
Sorina Bradea, cofondatoarea RoMarketing
Victor Gavronschi, General Manager and Founder @ Loopaa
Călin Biriș, Digital Director @ Loopaa
Cu mențiunea că vor exista și câțiva invitați surpriză pe partea de Employer Branding.
Unde, când și cât?
Evenimentul va avea loc în data de 23 februarie 2017 la Impact Hub Cluj-Napoca.
Biletele de acces la eveniment costă 79 euro +TVA și pot fi achiziționate de pe site-ul evenimentului, mk4it.loopaa.ro.